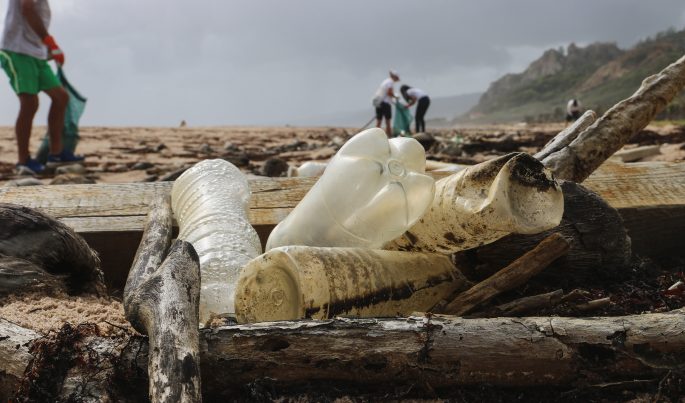 Coca-Cola's Shift From Glass to Plastic Bottles Fuels a Pollution Problem for Samoa
November 2, 2021
Samoa has been one of the few countries in the world where soft drinks had been bottled locally into recyclable glass bottles
But earlier this year, it all changed when the soft drink giant, Coca Cola Amatil, stopped this and replaced the glass bottles with plastic ones from Fiji and New Zealand, reports Inga Stunzner on the ABC's Pacific Beat.
Like many other countries in the Pacific, Samoa doesn't have any recycling facilities, and Samoa Conservation Society's James Atherton says the impact has been immediate. It was noticed within days as bottles started to pile up.
"We're seeing a lot more of the Coca Cola bottles now that we didn't see before, because they were always using glass," Mr Atherton said.
"For 40-odd years, we had a fairly environmentally friendly system where people would return the glass, because there was a deposit on it, so most glass was reused multiple times, and there was very little littering."
Coca-Cola Amatil has given US$39,000 to the Samoa Recycling and Waste Management Association to develop a plastics and can recycling program. But James Atherton says with a population of only 200,000 there is not enough waste to have a recycling facility for plastic bottles on the island, and the cost of exporting plastic bottles for recycling is high.
Robin Flaharty, Plastic Free Future Campaigner with Greenpeace USA believes that it's time Coca-Cola stopped its pollution at source. He says that for decades Coca-Cola and other consumer goods companies have relied on the myth of recycling to avoid responsibility for harmful single-use plastics. And as the fossil fuel industry's profitability continues to be undermined by worldwide action against greenhouse gas emissions, it has begun to see its salvation in a plastics boom – and a long-term partner in consumer goods companies like Coca-Cola. Packaging already accounts for 40% of total plastic demand. It is predicted that worldwide over 583 billion PET (clear lightweight plastic) bottles will be produced in 2021, according to Statista, a research and analysis provider.
The Samoa Conservation Society has set up a petition, which it will present to Coca Cola Amatil, asking the company to "rethink the switch". It says in Samoa, about 7,000 tonnes of plastic is consumed each year, making up about 16 per cent of the country's waste and in the absence of recycling, most goes into landfill or litter.
Robin Flaharty is calling on Coca-Cola Amatil to buy into refill and reuse systems for its products and invest in reusable systems that keep public health and workers' rights at their core.
Sources: 'Conservationists in Samoa warn of litter increase with Coca Cola's switch from glass to plastic' by Inga Stunzner, 13 May 2021, ABC's Pacific Beat: 'Coca-Cola fuelling plastic problem in Samoa after shifting away from glass, says critics' Pasifika Environews 30 April 2021, TVNZ; 'Coca-Cola it's time to stop your pollution at source' by Robin Flaherty, 20 April 2021, Greenpeace; statista.com.